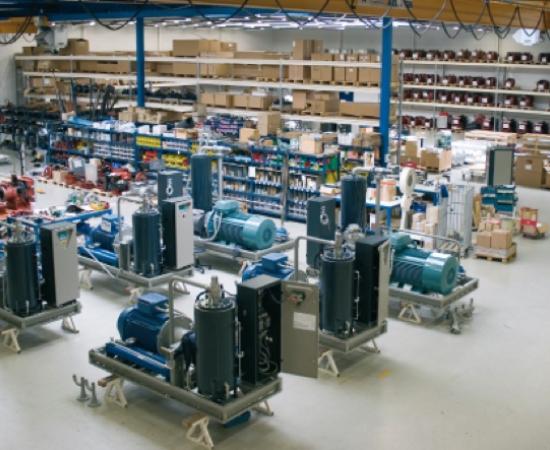 Tailor made is our standard
We are a manufacturer of air compressors and a specialist in the field of marine applications for compressed air systems. Our compressors have been designed and constructed since 1918 and thousands of compressor systems have been installed since then. At Deno Compressors we advise ship owners, engineers and shipbuilders about the most reliable and efficient compressed air systems and nitrogen generation systems.
Our products
Our products consists of complete compressed air systems, loose components and spare parts. An adequate stock of all components is maintained for all types, at all times.
The latest news


Visit by a Municipality and Maritime Delta
Important company visitors! Last Friday the 25th of November we had the pleasure of welcoming the Alderman and staff members of the Municipality of Krimpen aan den IJssel together with representatives of Maritime Delta (part of Rotterdam Maritime Capital of Europe) and Netherlands Maritime Technology (trade association). The focus of the visit was to meet the new Alderman Hugo van der Wal and see what the current priorities within the industry are. The Alderman and team also visited Weka Marine & Zwijnberg. During this programme, many topics were discussed like; international cooperation, sustainability and human capital. It was important to discuss these topics in order to strengthen the maritime cluster. We would like to thank Hugo van der Wal, Marnix Krikke, Edward Gilding & Michel Noorlander for visiting us and the Municipality of Krimpen a/d Ijssel, Maritme Delta & NMT for fitting us into your busy schedule.


Busy times for Deno
The last couple of weeks Deno got visited by its Egyptian and Singaporean agents for factory visits and basic training. During these moments business relations were strengthened and technological knowledge was shared. As we all know, these moments are very important for both parties in order to secure a thriving future.
Want to read more news items?
Meet us at the following exhibitions
5 - 8 December 2023
Marintec China
Deno Compressors will be present at:
Marintec 2023
We will be happy to meet you in the Holland Pavilion.

November 7-10, 2023
Europort Rotterdam 2023
Deno Compressors will be present at:
Europort Rotterdam, 2023
We will be happy to meet you there.

---
Our references
Want to see more of our references?